HR and Personal Services, A-to-Z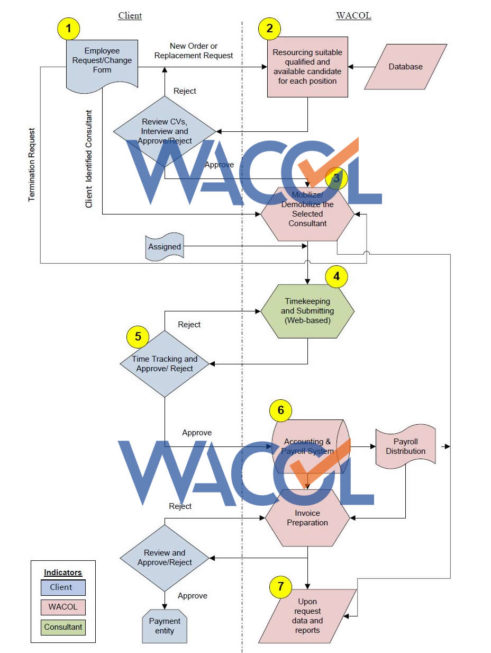 WACOL offers a full range of Personal Services/HR Program Management helping our Clients design and implement the process that best meets the needs of their business objectives and missions. WACOL has a track-record of successfully completing several long-term Personal Services Agreements in support of critical programs and projects funded by Government Entities and Globally Recognized Publicly Traded Corporations.
Relying on WACOL as your staffing partner, you need not to stress what staffing and payroll needs you choose. WACOL Experts will manage the process for you from A to Z with Time and Cost Effective Solutions. Our STREAMLINED process helps our Clients to focus On-Business NOT In-Business.
WACOL's Services Flow cover major HR functions including Writing and Placing Staffing Orders, Proposing Best-Fit Candidates, Recruiting and Deployment, Managing Web-Based Timekeeping and Expenses Reports, Tracking Approvals, Managing Payroll and Payroll Distribution, Collecting Performance Evaluation Inputs, and Training.
Writing Job Description and Facilitating Job Orders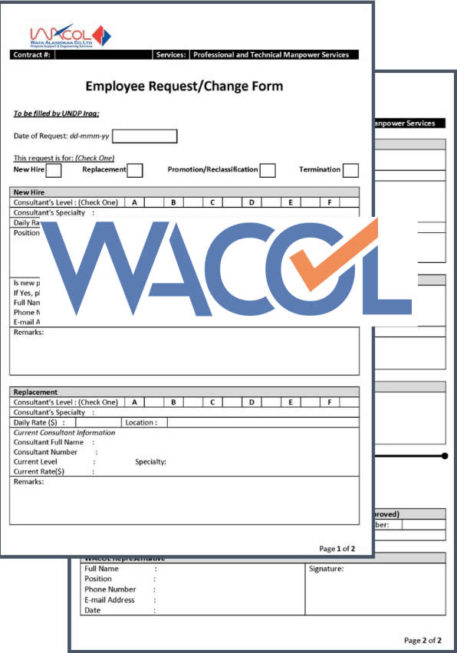 WACOL believes that the right staffing is crucial to successfully achieving our Client's vision and mission.  Whether it is for a permanent or temporary placement, the proper Job Title and Job Description are fundamental communication tools that provide the reader, on individual and enterprise level, an insight about the priorities and duties involved, skills and competencies needed, compensation and benefits offered, and other considerations such relationship and reporting within a hierarchical structure, designing development and training programs, determining performance measures, and a using it as benchmark for disciplinary or disputes issues. Therefore, WACOL Staffing Agency has long been assisting the Clients to better investing in resources by planning the right Job Title and Job Description aligned with work requirements and company objectives.
Moreover, WACOL Specialists work side-by-side with our Clients to identify and analyze the work requirements and provide a secured data transaction platform. The platform is customized to adhere to the budgetary and other contractual restrictions for any New Hires, Replacement, Promotion, or Termination request.
Resourcing a Pool of Candidates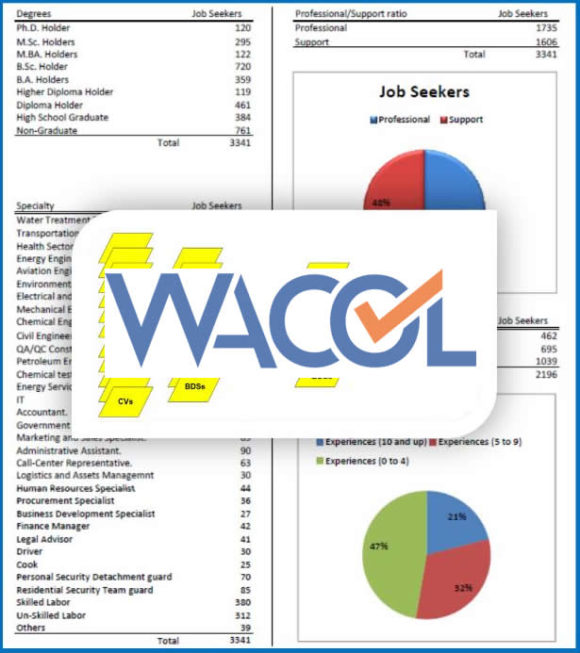 It is very hard to find the right talent for a job these days. However, WACOL's industry-specific focus allows us to develop a depth of experience, expertise, and connections that is unmatched. Therefore, whether it is for new or temporary placement, WACOL staffing agency can provide you with the people who fit your needs perfectly. Our extensive screening process means you get quality people who have the skills you require.
For each vacant, WACOL follows a certain process to make sure that through both the candidate and the company are completely satisfied:
Analyze the Client's request and understand the objectives of investing in a new hire.
Search our Database for the best-fit candidates. More than 5000 local and non-local job seekers including pre-scanned candidates and former employees. If deemed, other job boards will be considered.
The top 10 candidates are required to apply to the job post using WACOL's Biographical Data Sheet (BDS) form. Our BDS form is a rich resource to analyse the candidate's skills and competence, and conduct comprehensive vetting and screening. Also, it helps to integrate the data with other systems. Our Clients including those representing the U.S. Government have rated WACOL's BDS is the best tool to determine the best candidate.
Conduct a comprehensive vetting and screening and technical evaluation (phone call and in-person interview) to shortlist our top three candidates. WACOL will coordinate a next level interview with the Client to determine the most qualified candidate. The successful Candidate can be hired by our Client Directly or Indirectly.
Recruitment and Deployment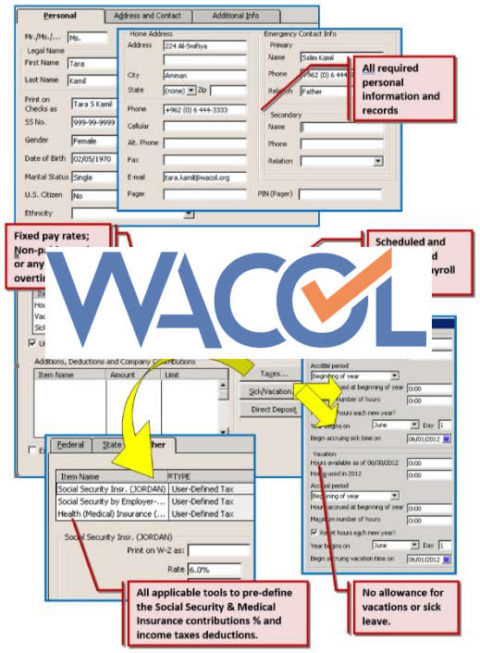 Most of our Clients have chosen WACOL to manage recruiting their new hired employee on their behalf. In this case the new hired Employee remains under WACOL's payroll but reports directly to our Client (Indirect Hire). WACOL Staffing Agency utilizes the latest practices and localized applications to maintain a quality and transparent recruitment process. Our recruitment process includes but not limited to:
Create Employee record for HR and Payroll Management using Intuit QuickBooks® Enterprise Solutions.
Issuing Employment Agreement in English and Local Language.
Request the new Employees to familiarizes themselves with WACOL and our Client Ethics Policy.
Request the new employees to submit the Payment Authorization Form.
Obtain Employee Social Security Insurance from local authorities.
Obtain Medical Insurance as deemed.
Reporting the Income Tax as deemed.
Provide three hours administrative training to insure the Employee's awareness of his or her new ole, Business Ethics, Contractual Obligations, and Timekeeping and Expenses reporting and approval process.
Coordinate the deployment date and provide on-line access to the Employee and the Client representatives for time and expenses reporting.
Provide the Employee with automation equipment (Computer, Cellphone, GPS, …), Personal Protective Equipment, and work tools as deemed.
Web-Based Time and Expenses Management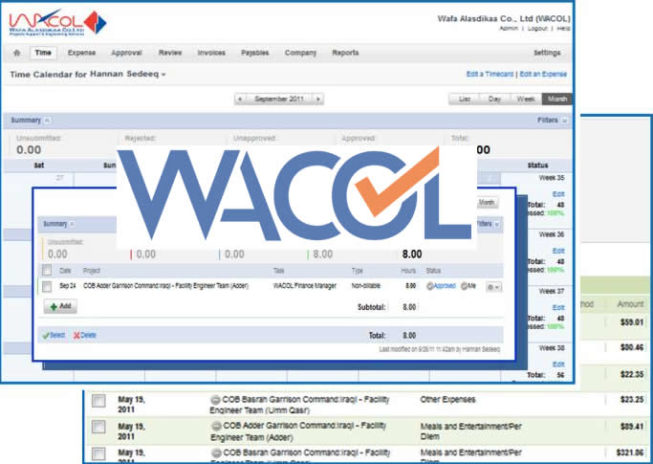 WACOL Timekeeping and Expenses Management helps our Client to manage their workforce to maximize productivity and reduce costs. WACOL uses SpringAhead® as a Secured Web-Enabled system that greatly streamlines and improves both time/expenses collection and payroll operations. Also, it can be customized to comply with contractual agreements.
Using WACOL services for Time and Expenses Management insures that our Client possess the following privileges:
Using Environmentally friendly product. No hardcopy paper print/sign off required.
Error free and controlled working billable hours.
Accessible remotely, no matter where the Employee or our Client Representative is.
Provide "tracking and approving access – Client level" for authorized Client's Representative(s).
Sufficient and instant reports for HR and Project records.
Flexible to select multi tasks/projects for each employee.
Easley Synchronizing information with other systems.
Payroll and Payment Delivery Management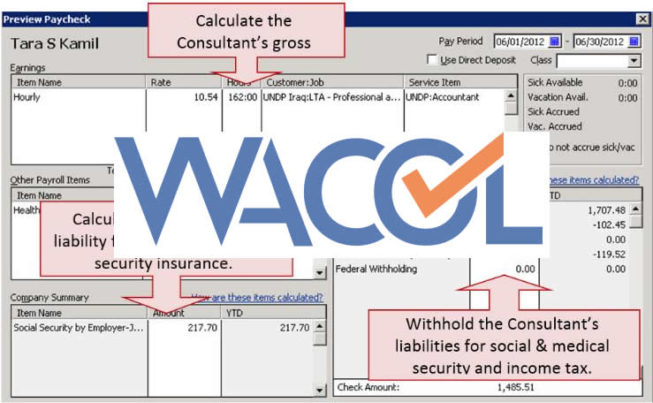 WACOL acts as a strategic business partner that delivers proven process and technology to achieve excellence in the client's payroll operations. WACOL is a worldwide payroll services company with over 100 cash and electronic payment centers just throughout the region.
With the power of QuickBooks® Payroll, WACOL offers the perfect payroll service that saves our Client's time and money and stay in control. We can help alleviate our Clients payroll pain whatever number of employees they have and wherever the end payment delivery is. WACOL manages Employees payable hours, regular time rates, overtime rate, paid and unpaid leaves, allowances and bonuses, regular and contingent expenses, social, health, and tax liabilities, and other federal withholding if deemed.

Once the payroll process is completed, Pay-Stubs will be generated and sent off electronically to the Employees to confirm the release of their payments. Payment shall be deposited at their bank accounts or at WACOL's alternative payment centers, the Employee's choice. All payment receipts will be combined and submitted with a summary invoice to our Client.
Moreover, WACOL provide the following reports upon request
Employee Performance Evaluation Reports.
Recruited Employee's profile to include the personal information, Employment information, Compensation / Payroll information and Compensation history.
Time and Expenses by Employee Name.
Expenses by Item.
Payroll Summary and Payroll Detailed Review.
Consultant's Earning Summary including the liabilities.
Payroll Transaction Details.
Payroll Liability Balance.
Employee's Withholding.
New hire or Termination List.
Financial Report including statement of invoices, open balance and all occurred transactions.
WACOL's billings per item (Position).
WACOL's billings per Employee Name.
Other Custom reports.
Professional Training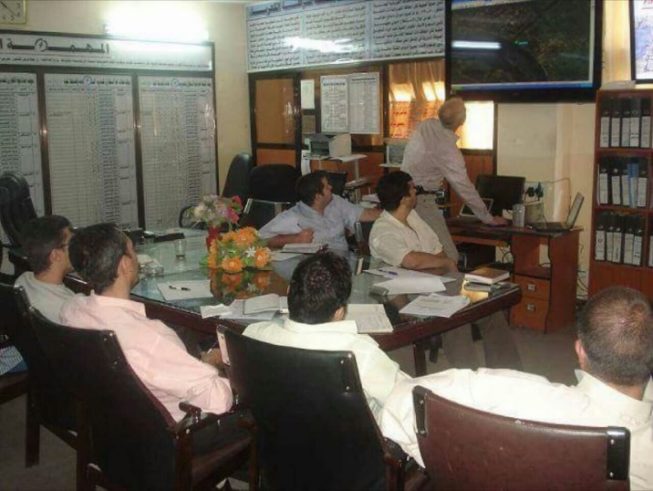 WACOL has extensive network of certified International Trainers and Professionals leveraged to boost the competence and skills of our and our Client Employees in Construction and Oil Industry.
Quality Assurance Training: WACOL Provides QA Training courses for individuals and owners by which protects their interest by assuring that CQC is working effectively and that the end product complies with the quality established by the contract.
ACI Training and Certifications: WACOL's technicians and inspectors are ACI (American Concrete Institute) certified. WACOL's partnership with ACI Accredited agencies in Iraq provides training courses in:

Concrete Field Testing Technician – Grade I
Flatwork Finisher Technician

Occupational Safety and Health Association Training: WACOL in cooperation with its associates provides Ten Hours Online OSHA Construction Industry Training Course This course is designed for Engineers, construction workers, foremen, job supervisors, and anyone involved in the construction and oil industry.
Construction Quality Management Training: WACOL ensures to achieve the quality established by the plans and specifications, through the cooperative but separate efforts of contractor and the owner.
Construction Managements Basic Training: WACOL managing Construction Management Basics Training Course including training on materials to help the field engineers understand the ideal methodologies of project's analysis regarding cost, schedule and time.
Assessment Procedures Training: WACOL provides solid training courses and produce qualified facilities assessors professional in Facility contract assessment, GPS, Preparing facility corrective action plans, BOQ, and Identifying construction deficiencies.
English Language: WACOL's sponsorship with TESDA Accredited Certification International Limited Agency provides on-line training courses to improve the Employee proficiency in English.